We mourn our dear Brigitte

The paths
we walked together;
The time
we shaped together;
The tranquillity
we experienced together;
The conversations
we had together;
The memories
that remain
are a gift for us.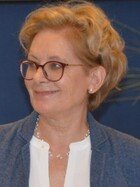 We mourn our dear friend and founding member
Brigitte Purner
23.11.1951 – 26.4.2020

with whom we had the honour of having had an intensive time. After months of illness she passed away on Sunday morning. Words cannot express what she meant to our community.
Brigitte was among the first in the Tyrol who was introduced to Jin Shin Jyutsu at the end of the 1990ies, studied it profoundly and soon committed herself at all levels to spreading the knowledge of this art of living: in self-help classes, practice groups, as an organiser and in the building of a community in the Tyrol.
From the hour of birth of our association, Brigitte was a very important and inspiring support. She contributed with joy and great commitment to the tasks and goals of our association. Her energy and drive, her humour and her creativity enriched and marked our associations' activities. Many people were touched by her affectionate nature and radiant eyes.
Brigitte was active in the managing board as secretary and project director from the very beginning. It was her goal to bring Jin Shin Jyutsu into the world and to the people. As course organiser, she was an attentive host. All events bore her personal signature. Loving details and a clear structure created a pleasant atmosphere. As interpreter for courses held by English instructors, Brigitte was a sensitive and lively mediator between the languages. She was an emphatic listener, communicator, mediator and facilitator.
We thank Brigitte Purner for this unforgettable time, for her love, her helpfulness and affection. We are with her and her family in thought and prayer.
Due to the current situation there will be no public funeral.
We will say farewell to our dear Brigitte in an appropriate setting at a later point in time.

With great affection,
Verein Jin Shin Jyutsu Österreich
Hedi Zengerle (Chairwoman 2007-2013)
Susa Hagen (Chairwoman 2013–2019)
Monika Fiechter-Alber (present Chairwomen)

Thaur, 26.4.2020

If you would like to express your thoughts about Brigitte, you can use the following e-mail address to do so: wirtrauernumbrigitte(xmsAt)jsj(xmsDot)at
We will collect the contributions and hand them on to Brigitte's family.